<![if !IE]> <![endif]>
Genuport Trade GmbH
Gutenbergring 60
22848 Norderstedt
Germany
List of Products
This exhibitor shows the following products and commodity groups:

Trend subjects
Organic
Vegan
Vegetarian

Target and sales markets
Western Europe

Company & products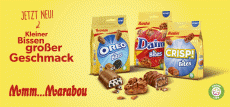 Marabou Bites — the small treats with the great taste
The creamily smooth chocolate of Marabou with its delicate hint of caramel surrounds sweet classic fillings and promises a genuine snack experience. Genuport will be offering the new product from Marabou in three flavours as of the second quarter of 2020: Crips Bites (140 g), Daim Bites (145 g) and Oreo Bites (140 g) at a MSRP of €1.99 each. The new Marabou Bites are a perfect opportunity for consumers to enjoy fine sweets in small morsels even when on the go.