<![if !IE]> <![endif]>
Frutree by Vetter Slovakia spol. s r.o.
Priemyselná 2
920 01 Hlohovec
Slovakia
List of Products
This exhibitor shows the following products and commodity groups:

Trend subjects
Halal
Handcrafted products/Artisan
Kosher
Organic
Sugar free
Vegan

Target and sales markets
Canada
Middle East
Others Eastern Europe
Southern Europe
USA
Western Europe

Company & products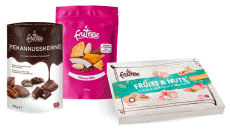 Fru´tree - Fruit & Nuts, naturally!
Under the new brand "Fru'tree", Vetter Slovakia produces and refines dried fruit and nuts, also with chocolate, in a modern manufactory.

New in the assortment are "Fruits & Nuts": noble creative dried fruit and nut
compositions covered in finest UTZ-certified chocolates and with special toppings. The highlight is "Fruits & Nuts in Ruby & Gold
CaramelChocolate": The soft-melting new chocolate varieties harmonize particularly with crunchy nuts, sweet dates and the exotic coconut. "Fruits & Nuts" are available in four varieties: dark chocolate, milk and white chocolate, Ruby and Gold Caramel chocolate or as "Date Selection" (a mixture of pure or filled dates in chocolate).

The confectionery category is also served with a wide selection of chocolate dried fruits and nuts in high quality oval boxes. New are exquisite chocolate nuts: pecan kernels in dark chocolate or walnut kernels in Ruby or Gold Caramel chocolate.

The range of dried fruits and nuts in re-sealable, colorful doypacks has also been extended with innovations. In addition to creative mixes, snacks and a coconut range, there are now dried fruits without added sugar for the nutritionally conscious consumer. These include the aromatic exotic mango and pineapple, dried banana slices and a particularly fruity physalis, as well as a fitness mix.

All Fru'tree products are available in shelf boxes or as part of customized POS displays.