<![if !IE]> <![endif]>
Frankonia Schokoladenwerke GmbH
Daimlerstr. 9
97209 Veitshöchheim
Germany
+49 931970460

+49 931 9704691

List of Products
This exhibitor shows the following products and commodity groups:

Trend subjects
Allergy friendly
Fair trade
Functional
Halal
Handcrafted products/Artisan
Impulse packages
Kosher
Organic
Private label
reformulated products
Sugar free
Vegan
Vegetarian

Target and sales markets
Africa
Asia
Australia
Brazil
Canada
China
Colombia
East Africa
Europe
India
Japan
Mexico
Middle East
New Zealand
North Africa
Northern Europe
Oceania
Others Central America
Others Eastern Europe
Others Oceania
Others South America
Russia
South Africa
South East Asia
Southern Europe
The Americas
Turkey
USA
West Africa
Western Europe

Company & products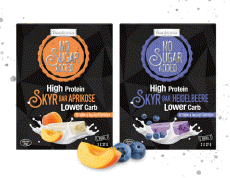 Skyr Bar
New in our "No Sugar Added High Protein" range are the Skyr bars. They are not only reduced in sugar, but also low in fat and rich in fibre. Skyr is a traditional Icelandic milk product that is now conquering the German market. A portion of Skyr is a protein-rich, satiating snack. It is reminiscent of low-fat curd cheese, but tastes more sour and contains more calcium. Strictly speaking, Skyr is not a yoghurt, but cream cheese. Skyr is characterised above all by its low fat content of about 0.2 - 0.5% and its high protein content of up to 11%. With these properties it is the basis for our No Sugar Added High Protein Skyr bars. In line with the current trend towards conscious nutrition and physical fitness, this is a real highlight when it comes to confectionery. Probably available in the varieties apricot and blueberry.