<![if !IE]> <![endif]>
Foodlink B.V.
Kerketuinenweg 35
2544 CV S GRAVENHAGE
Netherlands
List of Products
This exhibitor shows the following products and commodity groups:

Company & products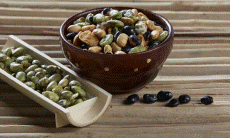 Roasted beans and peas
Roasted beans and peas are increasingly being used in flavoursome snack products, and are especially popular in Asia. Beans and peas are low in sugar and high in protein and fibre. Edamame beans, broad beans, soya beans, green peas and chick peas in different flavour varieties such as soya sauce or chilli can provide an unusual addition to the current product range. They can also be used to produce a special rice snack mix, or in a mix with nuts and other beans and peas.