<![if !IE]> <![endif]>
Fida Spa
Via Sarasino 38/40
14054 CASTAGNOLE DELLE LANZE (AT)
Italy
List of Products
This exhibitor shows the following products and commodity groups:

Trend subjects
Allergy friendly
Functional
Halal
Handcrafted products/Artisan
Impulse packages
Kosher
Private label
Sugar free
Vegan
Vegetarian

Target and sales markets
Africa
Asia
Australia
Brazil
Canada
China
Colombia
East Africa
Europe
India
Japan
Mexico
Middle East
New Zealand
North Africa
Northern Europe
Oceania
Others Central America
Others Eastern Europe
Others Oceania
Others South America
Russia
South Africa
South East Asia
Southern Europe
The Americas
Turkey
USA
West Africa
Western Europe

Company & products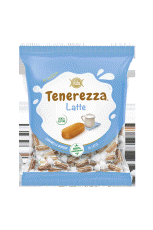 TENEREZZA
Soft milk candy. Tenerezza are the most delicious toffees in the world, with a velvety taste and an intense milky flavor. Are tender and become softer while melting in your mouth. Suitable for Vegetarian, Gluten free.