<![if !IE]> <![endif]>
The Chocolate Factory
Boonsweg 85
3274 LH HEINENOORD
Netherlands
List of Products
This exhibitor shows the following products and commodity groups:

Trend subjects
Handcrafted products/Artisan
Impulse packages
Limited edition
Private label
Vegetarian

Target and sales markets
Africa
Asia
Australia
Brazil
Canada
China
Colombia
East Africa
Europe
India
Japan
Mexico
Middle East
New Zealand
North Africa
Northern Europe
Oceania
Others Central America
Others Eastern Europe
Others Oceania
Others South America
Russia
South Africa
South East Asia
Southern Europe
The Americas
Turkey
USA
West Africa
Western Europe

Company & products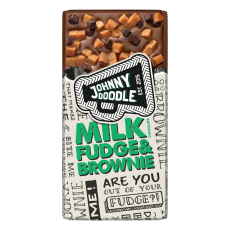 Johnny Doodle Milk Fudge & Brownie
Milk Fudge & Brownie is a bar of premium milk chocolate richly sprinkled with brownie chuncks and Johnny's own vanilla fudge pieces. Soft and sweet textures are combined with hints of crumbly pure cacao. Take a bite and you're sold. It's the fudge that makes the brownie!