<![if !IE]> <![endif]>

Premifair GmbH
Auenstr. 80
80469 München
Germany

List of product entries

This exhibitor shows the following products and commodity groups:

Trend subjects
Allergy friendly
Fair trade
Kosher
Organic
Sugar free
Vegan

Target and sales markets
Africa
Asia
Australia
Brazil
Canada
China
Colombia
East Africa
Europe
India
Japan
Mexico
Middle East
New Zealand
North Africa
Northern Europe
Oceania
Others Central America
Others Eastern Europe
Others Oceania
Others South America
Russia
South Africa
South East Asia
Southern Europe
The Americas
Turkey
USA
West Africa
Western Europe

Company & products
Products
Pacari Premium Organic Chocolate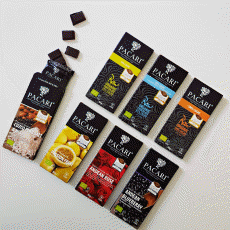 Our products are 100% organic, from biodynamic agriculture, Beyond Fair Trade and vegan. "From Tree to Bar" made in Ecuador, without soy, allergens, lactose, palm oil, gluten, GMO´s or chemical additives, but rich in antioxidants. Chocolate the way it should be!

CHOCOLATE BARS
We offer a wide variety of over 40 different flavours: from 60% bars with exciting combinations, to origin chocolates from specific regions, to our "raw" chocolates with up to 100% cocoa.

CHOCOLATE COVERED FRUIT
Dried fruit covered in tasty chocolate - every bite filled with joy!

MINI BARS
Enjoy our chocolates in small 10g bars - goes perfectly with your coffee, as a gift or just a snack.

GIFT BOXES
Who does not like to receive chocolate?

COOKING & BAKING
For both professional gastronomy, as well as the at-home-gourmet or hobby baker - good chocolate belongs in every good kitchen!

RAW SUPERFOOD
As pioneers of "raw" chocolate that is produced below temperatures of 42°C we offer a wide range of cocoa produts starting at 70% cocoa:

DEMETER
Pacari is the first one to make Demeter-chocolates. With our broad product range everybody will find their favourite!

SUGAR FREE
If you decided to make your 2022 sugar free, you can still enjoy Pacari! For all especially conscious cocoa lovers we offer products with 100% fine cocoa!
Trademark

Pacari Premium Organic Chocolate