<![if !IE]> <![endif]>
Itan snc F.lli Nardone
Zona PIP C/da Ilici
83030 Venticano (AV)
Italy
+39 0825965252

+39 0825965252

List of Products
This exhibitor shows the following products and commodity groups:

Trend subjects
Handcrafted products/Artisan
Kosher
Private label

Target and sales markets
Australia
Canada
Northern Europe
Others South America
Russia
Southern Europe
USA
Western Europe

Company & products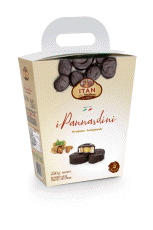 Pannardini
In past time production was limited to festival periods such as " SANTO NATALE " or Christmas period, and even then only Cupedia was produced. From this forerunner numerous specialities have been developed. Among these specialities are "Pannardini", created by the Nardone brothers: nougat miniatures filled with sponge cake soaked in liquor and covered with pure dark chocolate.