<![if !IE]> <![endif]>
HATZIYIANNAKIS DRAGEES S.A.
Thivon ave. 70b
185 42 Piraeus
Greece
+30 2104202962

+30 2104201039

List of Products
This exhibitor shows the following products and commodity groups:

Trend subjects
Halal
Kosher
Sugar free
Vegan
Vegetarian

Target and sales markets
Africa
Asia
Australia
Brazil
Canada
China
Colombia
East Africa
Europe
India
Japan
Mexico
Middle East
New Zealand
North Africa
Northern Europe
Oceania
Others Central America
Others Eastern Europe
Others Oceania
Others South America
Russia
South Africa
South East Asia
Southern Europe
The Americas
Turkey
USA
West Africa
Western Europe

Company & products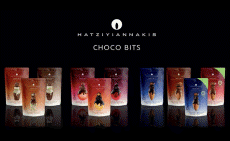 Hatziyiannakis Choco Bits
The Hatziyiannakis Choco Bits are a bite sized chocolate snack with whole nuts, real fruits or double chocolate. They come in 8 different flavors, two of them with stevia! Whole roasted almonds, real piece of orange and a whole real strawberry or sour cherry covered in bitter chocolate with 55% cocoa or in pure milk chocolate. And of course for the chocoholics, double chocolate bites with unique gourmet flavors like caramel & salt, apple & cinnamon or tiramisu!