<![if !IE]> <![endif]>
List of Products
This exhibitor shows the following products and commodity groups:

Company & products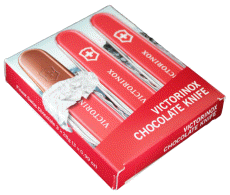 Victorinox Chocolate Knife
The Victorinox Chocolate Knife is the quintessential Swiss product that features authentic Victorinox branding combined with irresistible Swiss chocolate. The elegant shape of the chocolate perfectly imitates the look and the functionality of the Original Swiss Army Knife and is above all a delicious indulgence. Finest premium Swiss milk chocolate with a tenderly melting praline centre ensures an irresistibly mouth-watering delight. The Victorinox Chocolate Knife is available in five different versions. Its range includes all kind of formats from the single knife to treat oneself to the exclusive season greetings gift box as a special present and it is therefore
right for every occasion.

Gysi AG Chocolatier Suisse is the only authorized manufacturer of the Victorinox Chocolate Knife and has a worldwide license for the writing and the logo on the chocolate as well as on every kind of package.