<![if !IE]> <![endif]>

Grissin Bon S.p.A.
Via Antonio Pacinotti 4
42049 CALERNO (RE)
Italy
+39 0522 909002

+39 0522 474449

List of Products
This exhibitor shows the following products and commodity groups:

Target and sales markets
Australia
Brazil
Canada
Mexico
New Zealand
Northern Europe
Southern Europe
USA
Western Europe

Company & products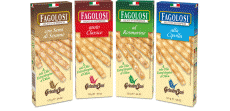 Fagolosi ist ein führendes Produkt auf dem nationalen Markt für Brotstangen, mit einfachen Zutaten wie nativem Olivenöl Extra und Salzoberfläche. Das achtsame Backen und die genaue Verarbeitung machen Fagolosi duftend und knusprig. Diese Grissinis eignen sich perfekt für ein Picknick, im Restaurant oder bei einem Drink. Sie regen Appetit und Fantasie an.
Man kann zwischen den Traditionellen-, den Sesam-, den Rosmarin- und den Zwiebel- Geschmackrichtungen wählen.
Auch in 250g Packung und in Catering Variante erhältlich.
Der Geschmack von Fagolosi, der unnachahmlichen und exklusiven Produkte der Grissin Bon-Familie, ist jetzt in einer innovativen Snack-Verpackung mit 8 Minipacks erhältlich.