<![if !IE]> <![endif]>

Goodlife Company GmbH
Kajen 12
20459 Hamburg
Germany

List of product entries

This exhibitor shows the following products and commodity groups:

Product emphasis
Natural Snacks
Trend Snacks

Trend subjects
Fair trade
Organic
Vegan
Vegetarian

Target and sales markets
Northern Europe
Southern Europe
Western Europe

Company & products
Products
HEJ Oat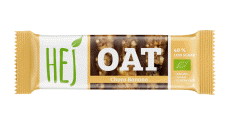 Our HEJ Oats are anything but ordinary oat bars:

· Vegan, organic and gluten-free (!)
· Refined with nut butter and therefore soooo juicy
· With 40% less sugar!

We offer them in three popular trend flavors!
Try out Red Berries, Choco Hazelnut and Choco Banana and discover how delicious and juicy oat bars can be.
Trademark

HEJ Natural


Naturally Pam