<![if !IE]> <![endif]>
Gofrino by Gaugres Geurts sprl
Rue du Parc Industriel 16
4300 Waremme
Belgium
+32 19544199

+32 19545508

List of Products
This exhibitor shows the following products and commodity groups:

Trend subjects
Organic
Private label

Target and sales markets
Australia
Brazil
Canada
China
Japan
Mexico
Middle East
New Zealand
Northern Europe
Russia
South East Asia
Southern Europe
USA
Western Europe

Company & products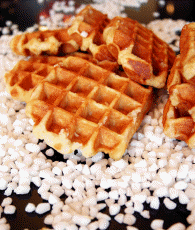 Gofrino by Gaufres Geurts Sprl
• Belgium is known in the world for his chocolate, beers but especially for his waffles! Pearl sugar Liege waffle is the most famous. Legend says the recipe was created by the chef of the Liege Prince during the 18e century..
• Founded on 2 historicals families companies from Liege, starting their business in 1928 (Gaufres Geurts and Gaufres La Doyenne), GOFRINO keeps using the same traditionnal recipe and tend to export it to new markets.
• Our waflles can be eaten fresh and are sold frozen in more than 20 countries. Special tip : our waffles are guaranteed 100% natural : no additives, no food coloring, no GMO, no flavor exhausted.