<![if !IE]> <![endif]>
Functional Gums srl
Via Alessandro Volta 13/a
39100 BOLZANO (BZ)
Italy
+39 0471 1957040

+39 0471592312

List of Products
This exhibitor shows the following products and commodity groups:

Trend subjects
Allergy friendly
Functional
Impulse packages
Private label
Sugar free
Vegan
Vegetarian

Target and sales markets
Africa
Asia
Australia
Brazil
Canada
China
Colombia
Europe
India
Japan
Mexico
Middle East
New Zealand
North Africa
Northern Europe
Oceania
Others Central America
Others Eastern Europe
Others Oceania
Others South America
Russia
South Africa
South East Asia
Southern Europe
The Americas
Turkey
USA
Western Europe

Company & products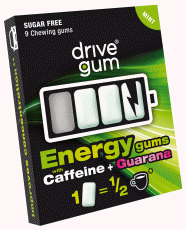 DRIVEgum
DRIVEgum is an energy chewing-gum with caffeine and guaranà that help you to stay awake, alert and concentrated thanks to its enhanced effect combined by these two natural energizing ingredients with the scientifically proven effects of chewing.
DRIVEgum is sugar free, lactose free, aspartame free and gluten free as well as free from harmful stimulants, with a pleasant and characteristic peppermint flavor.
DRIVEgum is the perfect alternative for whoever does not like energy drinks for its taste, its calories or high caffeine content or for those who does not want a soda or to stop for a coffee.