<![if !IE]> <![endif]>
Frunix e.U.
Kleeblattweg 1b
1170 Vienna
Austria
List of Products
This exhibitor shows the following products and commodity groups:

Trend subjects
Allergy friendly
Functional
Vegan
Vegetarian

Target and sales markets
Australia
Canada
Middle East
Northern Europe
Others Eastern Europe
Russia
South East Asia
Southern Europe
Turkey
USA
Western Europe

Company & products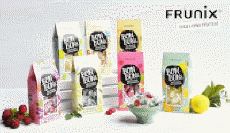 hard candies free from fructose and free from sugar alcohols
FRUNIX has been developing foods specifically for people with fructose intolerance and / or sorbitol tolerance since 2018. The brand name "FRUNIX" derives from: Fru - nix = no fructose!
Problem:
Excessive fructose consumption in western industrial nations
Effects:
Around 30% of the population suffer from fructose and / or sorbitol tolerance and / or non-alcoholic fatty liver, diabetes, gout, depression. An increase in carbohydrate absorption disorders can be seen.
Market situation:
insufficient supply of demand-oriented products
Solution:
FRUNIX® offers high-quality hard-candies without fructose in seven flavors (fruity and herbal flavours), HUSTNIX®, the first fructose-free cough syrup and HONIX®, a natural & vegan spread free from fructose with honey-flavour. The FRUNIX range has also been expanded to include fructose-free corn sugar for cooking and baking, and high quality vanilla sugar.
Properties:
fructose free, sorbitol free, free from sugar alcohols (xylitol, mannitol, sorbitol), vegan, gluten free, lactose free, free from artificial sweeteners, without citric acid
Industries:
Pharmacies, health food stores, drugstores