<![if !IE]> <![endif]>
Finger Foods France SARL
Route de Saint-Sauveur 5
50250 LA HAYE
France
List of Products
This exhibitor shows the following products and commodity groups:

Trend subjects
Handcrafted products/Artisan
Organic
Private label
Vegan

Target and sales markets
Canada
China
Japan
Middle East
Northern Europe
South East Asia
Southern Europe
USA
Western Europe

Company & products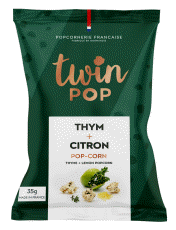 Twinpop
Twinpop was born when two twin sisters decided to put their own spin to the popcorn industry: a gourmet popcorn to enjoy at any time of the day!
Thanks to their family know-how and their taste for good things, Camille and Béryl have developed some original recipes, using natural and qualitative ingredients, all made in Normandy, their native region.
This recipe is made with Thyme and Lemon, the perfect combination for a sweet&salty snack to enjoy with a glass of wine!
Discover the rest of the range : Truffle & Black Pepper, Pink Berries & Sea Salt, Salted Butter & Caramel, Chocolate & Caramel