<![if !IE]> <![endif]>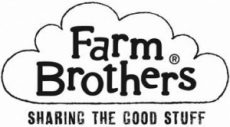 Farm Brothers B.V.
Keizersgracht 285
1016 ED AMSTERDAM
Netherlands
List of Products
This exhibitor shows the following products and commodity groups:

Trend subjects
Organic
Private label
Vegan
Vegetarian

Target and sales markets
Australia
Canada
China
Europe
Japan
Middle East
New Zealand
Northern Europe
Others Eastern Europe
Russia
South East Asia
Southern Europe
Turkey
USA
Western Europe

Company & products
New Farm Brothers Vegan & Organic Almond Brownie cookies!
100% plant-based, super-tasty, Palm Oil free and baked with coconut oil. This product was awarded: BEST NEW ORGANIC PRODUCT OF THE NETHERLANDS 2019.
Farm Brothers proudly presents: Vegan Cookies. Two new cookie flavours, which are not only 100% organic but also completely vegan! Slow-baked without butter and eggs, and especially without all other junk that does not belong in cookies. And that's great news – as we can never have too many vegan cookies in the world. In store now: Farm Brothers Maple Pecan & Brownie Almond.
What's in it? It's simple: spelt flour, whole grain rye and oatmeal, coconut oil, rice syrup, brown sugar, baking powder and a pinch of salt.
Farm Brothers stands for a better earth. With every pack of Farm Brothers organic cookies that you buy you "save" a piece (12 cm2) of depleted agricultural land in the Netherlands, and make this organic forever. For more info on the soil or the cookies visit us at our stand!