<![if !IE]> <![endif]>
Essento Insect Food AG
Aargauerstrasse 3
8048 Zürich
Switzerland
List of Products
This exhibitor shows the following products and commodity groups:

Trend subjects
Allergy friendly
Fair trade
Functional
Impulse packages
Kosher
Organic
Private label
Sugar free

Target and sales markets
Northern Europe
Southern Europe
Western Europe

Company & products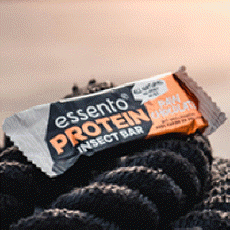 Essento Protein Bars
Our Essento Protein Bars are not just like any other protein bar. They are special, because they…
...motivate you to mental and physical excellence, ...enchant you with pure natural ingredients, ... are packed with sustainable protein from insects, ... and taste really good.

For our high protein bars, we use cricket flour (Acheta Domesticus, EU origin), which provides all nine amino acids to build and regenerate your muscles. Cricket flour also contains vitamins A and B12 and minerals that help you achieve mental and physical best results. Pure power food!

Our promise: only natural and honest ingredients. No whey, no artificials, no bullshit.

Our high protein Essento Protein Bars are available in two flavours:
- Berry Coconut
- Raw Chocolate (with cocoa nibs!)

Enjoy it before and after exercising or just in between.