<![if !IE]> <![endif]>
EOS NUTRISOLUTIONS
Planta 11, Puerta 13 Calle Astronomía 1
41015 Sevilla
Spain
List of Products
This exhibitor shows the following products and commodity groups:

Trend subjects
Functional
Impulse packages
Private label
Vegan

Target and sales markets
Australia
Mexico
Middle East
Northern Europe
Others Central America
Others Eastern Europe
South Africa
Southern Europe
Turkey
Western Europe

Company & products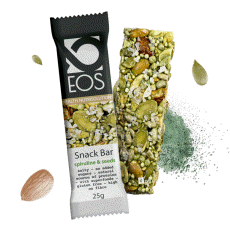 Spirulina and seeds Bar
A different bar for different people. Original and awesome salty flavour.
A bunch of nuts, seeds and quinoa, plus all the taste of the sea brought by the spirulina algae... But free of added sugars.
73% NUTS AND SEEDS: satiating, full of fiber and micronutrients.
20% VEGAN PROTEIN: we carefully select ingredients so that our bars
count with a natural great source of plant-based protein.
CLEAN LABEL: you will only find ingredients that sounds familiar to you.
No additives, preservatives or artificial flavours are added.
With Spirulina, the cutting-edge superfood.