<![if !IE]> <![endif]>
Entomophagy solutions oy Entis
Henrikinkatu 8 as 4
20500 Turku
Finland
List of Products
This exhibitor shows the following products and commodity groups:

Trend subjects
Functional
Sugar free

Target and sales markets
Australia
Japan
New Zealand
Northern Europe
Russia
South East Asia
Southern Europe
USA
Western Europe

Company & products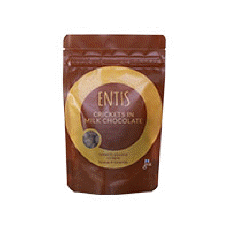 CRICKETS COVERED IN CHOCOLATE
Dried Finnish house crickets covered with a generous layer of artisan chocolate. A great way in to the world of insect food.

ENTIS has been creating unbeatable combinations of flavour and nutrition since 2017. Our products are widely sold across Finland by high profile retailers. We've made a start on international markets and expanding to Europe this autumn. Innovative approach to product development has allowed us to deliver quality and to set our price point be the most competitive on the market.

WHY CRICKETS?
Edible insects are one of the most promising protein sources for the future. Compared to traditional livestock production, insect farming produces 98% less greenhouse gases and requires an exponentially smaller amount of water, space and other recourses. Edible insects are also a great source of nutrients such as protein, vitamin B12, iron and zinc. A bit like cereal, only better. Crunchy, tasty and packed full of protein, zinc and iron. Enjoy on the go or add into your smoothie or yoghurt.