<![if !IE]> <![endif]>
Dzukija JSC
Eisiskiu Pl. 25
02184 Vilnius
Lithuania
+370 61290035

+370 5 2164457

List of Products
This exhibitor shows the following products and commodity groups:

Trend subjects
Private label

Target and sales markets
Middle East
Northern Europe
Southern Europe
USA
Western Europe

Company & products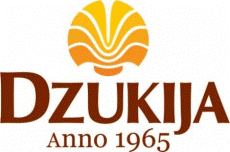 "Dzukija" Ltd
The company is one of the largest biscuit manufacturers in Lithuania. About 90 employees work here, and the production premises cover 4000 square meters. Modern machinery and equipment in our production department allow us daily to produce up to 10 tons of different kinds of pastry: biscuits, tree cakes (Baumkuchen), pies, tarts and other gourmets. In order to offer our gourmet customers to taste traditional and modern pastry, we implement new original recipes, created in cooperation with foreign specialists. To produce our pastry, we use only raw materials of the highest quality. We have a chain of pastry shops.
Our main products and specialties include:
• Shortbread dough biscuits and pies of different shapes with / or without filling. Liquid dough biscuits of all kinds, sugar biscuits, puff pastry biscuits;
• Traditional spit cake, also named as tree cake (Baumkuchen);
• Holiday cake. Special orders are accepted;
• Wafer rolls;
• Chocolate and different kinds of icing. We make authentic black chocolate and all kinds of confectionery icing, chocolate bars, figures, dried fruits in chocolate, etc;