<![if !IE]> <![endif]>
Paletas Mara S.A. de C.V.
Manuel Doblado 653
99630 Guadalajara
Mexico
List of Products
This exhibitor shows the following products and commodity groups:

Target and sales markets
Africa
Asia
Brazil
Canada
China
Colombia
East Africa
Europe
Japan
Middle East
North Africa
Others Central America
Others Eastern Europe
Others South America
Russia
South Africa
The Americas
Turkey
USA
West Africa
Western Europe

Company & products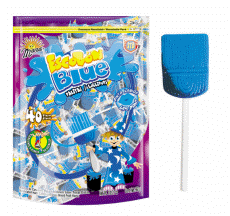 ESCOBON BLUE, MIXED FRUIT FLAVORED HARD CANDY LOLLIPOP
This delicious blue tongue painting lollipop is one of our best sellers. It is currently number one in 20 of the 30 coutries to which it is exported.
This lollipop with its added play value is full of fun for kids and adults alike. We currently produce it in a wide range of sizes and presentation. We can make it as small as 8 grams and as big as 18 grams. Please visit our stand form more information.