<![if !IE]> <![endif]>

Damel Group, S.L.
Calle Ciudad de Barcelona 20
46988 Paterna
Spain

List of product entries

This exhibitor shows the following products and commodity groups:

Product emphasis
Snack products
sugar confectionery

Trend subjects
Allergy friendly
Halal
Impulse packages
Kosher
Private label
Sugar free
Vegan
Vegetarian

Target and sales markets
Australia
Brazil
Canada
China
Colombia
East Africa
India
Japan
Mexico
Middle East
New Zealand
North Africa
Northern Europe
Others Central America
Others Eastern Europe
Others Oceania
Others South America
Russia
South Africa
South East Asia
Southern Europe
Turkey
USA
West Africa
Western Europe

Company & products
Products
Vegan Gummies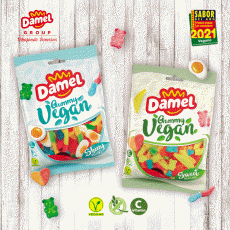 Discover our new Sweet and Shiny Vegan Gummies for the retail market, available in two formats:
80g and 125g. Gluten free, Vitamin C and International recognized V Label Certificate. Spanish Vegan Flavour of the Year 2021 Award. Our wide range of vegan sweets are also available for impulse channel.
Trademark

#KE


CASAMAYOR


Damel


Kelia


Meivel


Palotes


Pectol