<![if !IE]> <![endif]>

Codan S.A.
Carretera de Valencia 25
28500 Arganda del Rey
Spain

+34 918710861


+34 918712117


List of product entries

This exhibitor shows the following products and commodity groups:

Product emphasis
Fine bakery products

Target and sales markets
Africa
Asia
Australia
Brazil
Canada
China
Colombia
East Africa
Europe
India
Japan
Mexico
Middle East
New Zealand
North Africa
Northern Europe
Oceania
Others Central America
Others Eastern Europe
Others Oceania
Others South America
Russia
South Africa
South East Asia
Southern Europe
The Americas
Turkey
USA
West Africa
Western Europe

Company & products
Products
GOGOKIDS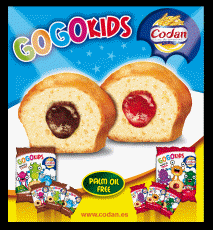 The GOGOKIDS are tender filled snacks, ideal for children. They are mini cakes in the form of muffins, with two versions of fillings, cocoa cream and strawberry filling.
Product made without palm oil. Shelf life 180 days.