<![if !IE]> <![endif]>

Chocolat Madagascar
Myerscough Hall
Bilsborrow PR3 0RY
United Kingdom

+44 1612981900


+44 1995 642245


List of product entries

This exhibitor shows the following products and commodity groups:

Product emphasis
chocolate, chocolate products
Ice cream, deep-frozen confectionery / raw pastes
Natural Snacks
Trend Snacks

Trend subjects
Allergy friendly
Fair trade
Handcrafted products/Artisan
Kosher
Limited edition
Organic
Private label
Sugar free
Vegan
Vegetarian

Target and sales markets
Australia
Canada
China
East Africa
India
Japan
Middle East
New Zealand
Northern Europe
Others Eastern Europe
Russia
South Africa
South East Asia
Southern Europe
Turkey
USA
West Africa
Western Europe

Company & products
Products
World class fine chocolate & cacao- Grown & freshly crafted in Madagascar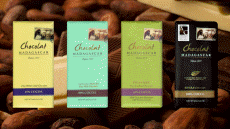 World class pure natural & organic fine flavour single origin/estate/terroir chocolate & cacao producer of Madagascar, Africa.

Freshly crafted chocolate & cacao ingredients in Madagascar by Malagasy Chocolaterie Robert of Antananarivo from freshly fermented and dried rare Criollo-Trinitario cacao from farms of north west & east coast of the island. Malagasy owned agroforestry domain/ cacao of Mava estate, Grand Crus de Sambirano, single farm & terroirs of Ottange, Ambohimena, Maliolio, Vohibinany, Mananjary & Manakara.

Multi international chocolate awards, Academy of Chocolate Golden Bean, Cocoa of Excellence, Great Taste winners.

Unlike most chocolate, this is fully traceable from seed to chocolate, where the natural cocoa butter is also extracted from the fine cocoa we grow in Madagascar to bring true origin flavours and mouthfeel. Natural fruity flavours from the rare cacao, giving low bitterness and needing much less added cane sugar.

We finely grind and conch(
As ethical as delicious, "Raisetrade" creating many times more economic value at origin . Sustainable agroforestry creates a safe haven for the indigenous endangered flora and fauna.

We offer for retail & professionals:

Vegan dark 100%-65% cacao single terroir/ farm bars & grand cru ranges.

Vegan Milc & Blanc (dairy free alternatives) using Malagasy cashew nuts.

Fine milk & white gold range (37-80% cacao) using natural cacao butter.

Couverture/baking ranges that are in easy weigh, melt & temper formats that stay fresh longer.

Chocolate blocks for flaking for "real" chocolate drink.

Fine flavour organic & natural cocoa butter, powder, nibs & unrefined cocoa mass of Grand cru de Sambirano, single estate & farm origins.

We provide fine rare cacao beans.
Veranstaltungen
Events
Date
Speaker

Chocolat Madagascar

Expert Stage/Halle 5.2, Trend Court


31.01.2022 | 10:15 a.m.-10:45 a.m.



N. Kelsall