<![if !IE]> <![endif]>
Ceresal GmbH
Am Exerzierplatz 3
68167 Mannheim
Germany
+49 6213097890

+49 62130978944

List of Products
This exhibitor shows the following products and commodity groups:

Trend subjects
Allergy friendly
Functional
Halal
Kosher
Organic
reformulated products
Vegan

Target and sales markets
Northern Europe
Others Eastern Europe
Southern Europe
Western Europe

Company & products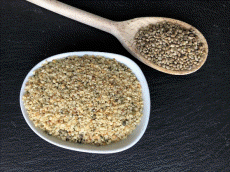 Roasted hempseeds- a natural trend ingredient for snacks and sweets
We offer roasted hemp seeds as an innovative trend ingredient. The taste of the hemp seeds is intensified by the gentle roasting process. The healthy fatty acids and secondary plant substances are largely preserved. The seeds get a very fine roasted note. We can offer this innovative ingredient in conventional and organic quality. We can also peel, spray salt and chocolate-coat the roasted hemp seeds. We see applications in chocolates, snacks and mueslis.