<![if !IE]> <![endif]>
CAM Consulting and Mentoring Ltd
a Baldock Way 4
CAMBRIDGE CB1 7UU
United Kingdom
List of Products
This exhibitor shows the following products and commodity groups:

Trend subjects
Organic
Sugar free
Vegan
Vegetarian

Target and sales markets
Northern Europe
Southern Europe
USA
Western Europe

Company & products
Water lily seed snacks
Water lily seeds are the hottest new superfood snack. In India, water lily seeds have been used for centuries in traditional medicine such as Ayurveda, they are indeed a good source of protein, iron, magnesium and amino acids. We offer a range of flavours from sweet to savoury using gourmet recipes to take you on a conscious culinary journey. Oh Lily! delivers an innovative, crunchy, tasty, healthy snacking experience any time of the day. Our snacks are vegan-friendly, naturally gluten-free and packed sustainably.
Trademark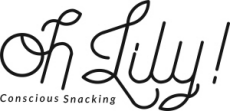 Oh Lily !