<![if !IE]> <![endif]>
Brand Distribution Company sp. z o.o. s.k.a
ul Sw. Rocha 8
15-879 Bialystok
Poland
List of Products
This exhibitor shows the following products and commodity groups:

Trend subjects
Allergy friendly
Fair trade
Functional
Impulse packages
Organic
Sugar free
Vegan
Vegetarian

Target and sales markets
Africa
Asia
Australia
Brazil
Canada
China
Colombia
East Africa
Europe
India
Japan
Mexico
Middle East
New Zealand
North Africa
Northern Europe
Oceania
Others Central America
Others Eastern Europe
Others Oceania
Others South America
Russia
South Africa
South East Asia
Southern Europe
The Americas
Turkey
USA
West Africa
Western Europe

Company & products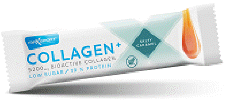 Collagen bar Collagen+ Salty Caramel 40 g
Other flavours: Chocolate, Strawberry, Coconut
The first collagen bar on the market combines delicate taste & scientifically proven functionality. Designed to become an everyday snack that will please your taste buds, energize you and provide a great range of functional benefits. Bars consist fibre, 39% of protein and 5200 mg bioactive collagen. They are low sugar and gluten free.