<![if !IE]> <![endif]>
Brand Hatchers Limited t/a Brain Blasterz

P.O. Box 2548
CF30 0FR LLanrumney
United Kingdom
List of Products
This exhibitor shows the following products and commodity groups:

Target and sales markets
Australia
Brazil
Canada
Middle East
New Zealand
Northern Europe
Others Eastern Europe
Russia
South East Asia
Southern Europe
USA
Western Europe

Company & products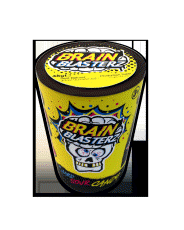 Super Sour Candy
Brain Blasterz is Europe and the Middle East's leading Super Sour Candy Brand.
Brain Blasterz started in 2011 with three products: the original tub, the candy spray and the Brain Bitz.
Today Brain Blasterz is sold in over 40 countries worldwide and is the #1 sour brand in many markets across Europe and the Middle East.
There are 10 products ranging from a 1 to a 5 on the sour scale so you can try Brain Blasterz whether you're a novice (try a 1!) or a fully-fledged sour head (go straight for a 5!).
Brain Blasterz' USP is its online strength with fans. The brand has a loyal following on Facebook, Instagram and Youtube. Fans upload Youtube videos every day and Brain Blasterz videos have over 12 million views on Youtube. The Instagram and Facebook engagement is up month on month with regular competitions, live streams and market specific activities.
Get in touch with us for more information about how the combination of a robust sour candy range and an extremely loyal online fanbase can add value to your business today.