<![if !IE]> <![endif]>
Boool Chocolat impertinent
5 Allée François Mitterrand
67400 ILLKIRCH GRAFFENSTADEN
France
List of Products
This exhibitor shows the following products and commodity groups:

Trend subjects
Handcrafted products/Artisan
Vegan
Vegetarian

Target and sales markets
Australia
Brazil
Canada
India
Japan
Middle East
New Zealand
Northern Europe
Others Eastern Europe
Russia
South Africa
South East Asia
Southern Europe
USA
Western Europe

Company & products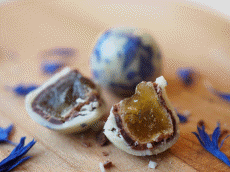 BOOOL Fruits Flowers edition : Stay connected with nature
The beautiful colors you find in our chocolates come directly from flowers, leaves and fruit we have selected for our recipes. We give priority to the well-being of everyone, while respecting the balance of our beautiful planet. To follow this idea, we chose partners who have our same values, which means public accountability and closeness.
We are proud to use in each recipe up-market cocoa beans from Ecuador, Papua New Guinea, Trinidad and Tobago, Ivory Coast, Ghana, Venezuela and Madagascar, edible flowers and leaves, lovingly picked in Alsace, as well as jellied fruit carefully made from French crops. Since our ingredients aren't randomly selected, neither is the creation of our recipes.
Patrick, our inventor-chocolate maker, took some time to test several blends in order to give you the perfect balance of flavors and the ideal mix between all the components. For instance, if you're wondering why our BOOOL have a double coating of dark and white chocolate, this is to get a subtle harmony between the bitterness of the former and the sweet taste of the latter.
As for the flowers, they bring a touch of poetry, both visually and tastefully. They're the ones which give these unique colors to our chocolates, but also a strongly marked taste, sometimes complemented by tiny bits in the mouth. Finally, the fruit, present at the heart of our recipes, Immediately push you into a parallel universe where only sweetness, harmony and freshness dictate their rules.
Just for a change, we created a range of seven recipes, all appetizing and full of temper. Between Très'or, Pti'coeur, Blanc Bleuet, Blue'BOOOL, Fraîcheur estivale, Namas'thé and BOOOL de feu, which one will have your preference?
(Spoiler alert: you can love all of them, we won't blame you!)
Meet Patrick, Tony and BOOOL's team stand 05.2 i033