<![if !IE]> <![endif]>

BHB Italia Srl
Via Luigi Negrelli 4
31038 PAESE (TV)
Italy

List of product entries

This exhibitor shows the following products and commodity groups:

Trend subjects
Allergy friendly
Functional
Organic
Private label
Vegan

Target and sales markets
Northern Europe
Others Eastern Europe
Russia
Southern Europe
Turkey
Western Europe

Company & products
Products
Sponge cake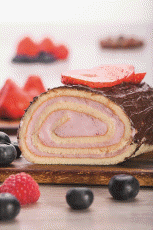 Our Sponge cake roullè is made with high quality ingredients, perfect for any type of use, given its softness and its ability to absorb perfectly the syrup or keep the creams. We offer our semifinished sponge cake for bakeries and in this way, we give them the possibilities to save money and time, focusing exclusively on making cakes.