<![if !IE]> <![endif]>

BEYER S.A.S
Rue de l'Ecluse 19
68120 PFASTATT
France

+33 389522233


+33 389530832


List of product entries

This exhibitor shows the following products and commodity groups:

Product emphasis
sugar confectionery

Target and sales markets
Australia
Canada
China
Japan
Middle East
New Zealand
Northern Europe
Others Central America
Others Eastern Europe
Russia
South East Asia
Southern Europe
Turkey
USA
Western Europe

Company & products
Products
FRuit spread with 96% of fruits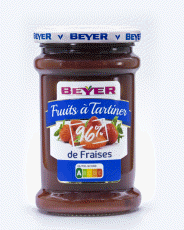 Rediscover the taste of fruit! Our fruit spreads are traditionally cooked in a pot.
With 96% fruit, these products fit perfectly into a healthy and balanced diet.
The recipes were developed in partnership with the CEED in Strasbourg (European study center of diabetes).
With a Nutriscore A, our fruit spreads are the only ones on the spreadable market to obtain this score compared to a classic jam (Nutriscore C or D).
Thoses recipes are perfectly adapted to the consumption of diabetes people and also customers who want to reduce sugar in their daily consumption.
For our 100th anniversary, discover our innovation full of tradition.