<![if !IE]> <![endif]>
Van Strien Banketbakkers
Simon Stevinstraat 3
3261 MG OUD BEYERLAND
Netherlands
+31 186 626326

+31 186 626384

List of Products
This exhibitor shows the following products and commodity groups:

Trend subjects
Fair trade
Handcrafted products/Artisan
Organic
Private label
Vegan

Target and sales markets
Australia
Canada
Japan
Northern Europe
Others Eastern Europe
Southern Europe
USA
Western Europe

Company & products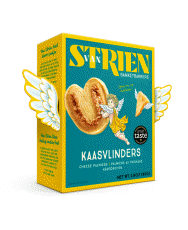 Van Strien savoury biscuits
Van Strien likes baking cookies best. Cookies to fall head over heels for, that's how we like to bake them!
Our family business has been baking cookies since 1938 with crafstmanship, the best ingredients and a love for baking. In our traditional bakery over 100 different kinds of cookies are made in an artisan fashion and each with their own unique recipe. Like savoury biscuits with cheese and nuts. Made with our signature handmade all butter pastry dough. And a real Gouda North-Holland PDO old cheese for our best loved cheese palmier!

Of all our cookies 18 products are available in the Van Strien consumer brand.