<![if !IE]> <![endif]>
Albert Ménès
Rue Saint-Denis 156
92700 COLOMBES
France
+33 1 47 15 52 91

+33 33147371380

List of Products
This exhibitor shows the following products and commodity groups:

Company & products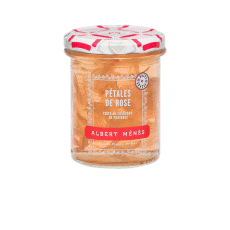 ROSE PETAL CONFIT
Candied rose petals is a great specialty of the Albert Menes House. Made from rose petals Centifolia, or "Rose de Mai", this confit perfectly reproduces the subtle perfumes of this exceptional flower. The Centifolia roses are picked in the early morning during the month of May in the Grasse region. The petals, very fragile, are detached by hand and worked without delay. The pots are taken one by one to control the arrangement of the petals in the confit. Once this harmony is achieved, and only then, the
pots can be labeled. The candied rose petals Albert Ménès is absolutely natural, without coloring or addition of aroma. Its color and its perfume are inimitable, besides famous in the whole world since it returns in the composition of the exceptional Chanel n°5.

SUGGESTIONS AND RECIPES

This Confit of Rose Petals is ideally suited for a gourmet break. It is an original alternative to jam. Its subtile scent is welcome in panna cotta, rice pudding or mascarpone verrines. Remember to insert it in your Bavarian, it's a delight.