<![if !IE]> <![endif]>

Albanese Confectionery Group Inc.
5441 E Lincoln Hwy
Merrillville ,IN 46410-5947
United States of America

List of product entries

This exhibitor shows the following products and commodity groups:

Target and sales markets
Africa
Asia
Australia
Brazil
Canada
China
Colombia
East Africa
Europe
India
Japan
Mexico
Middle East
New Zealand
North Africa
Oceania
Others Central America
Others Eastern Europe
Others Oceania
Others South America
Russia
South Africa
South East Asia
The Americas
Turkey
USA
West Africa

Company & products
Products
Albanese® World's Best Gummies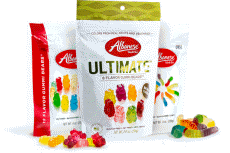 Albanese Confectionery is the leading manufacturer of the World's Best Gummies & Gold Label Chocolates in attention grabbing packaging and bulk format; made with high quality ingredients in the USA! The gummi with the "A" on the tummy offers a softer chew, bursting with flavor and gummies that start sour, and stay sour. We're also proud to say our gummies have all the trending attributes of allergen free, gluten free, fat free, and low in sodium.
Trademark

Albanese® World's Best Gummies _