<![if !IE]> <![endif]>
Al Basha GmbH
Bäckerstr. 9
32257 Bünde
Germany
+49 5223 65080

+49 5223 791 5135

List of Products
This exhibitor shows the following products and commodity groups:

Trend subjects
Halal
Handcrafted products/Artisan

Company & products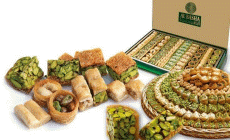 Al Basha
Al Basha GmbH
Kontaktperson: Frau Hala Zakri
Adresse: Bäckerstr. 9, 32257 Bünde, Deutschland
Tel.: +49 (0)5223/7915130
Fax: +49 (0)5223/7915126
E-Mail: info@al-basha.net
Website: www.albasha-sweets.com

Unternehmen
Al Basha ist ein Hersteller von erstklassigen, originalen und
handgemachten arabischen Süßigkeiten. Mit dem
Know-how aus Syrien produziert Al Basha seine
Produkte in Deutschland mit den besten Aleppo-Pistazien,
Mandeln, Cashewnüssen und anderen Nüssen höchster
Qualität aus Syrien.

Produkte
Baklava
Nawashef (orientalische Kekse)
Asabe (gerolltes Gebäck) mit Cashewkernen und Pistazien
Asieh (Blätterteiggebäck)
Ballourieh (Teigfadengebäck)
Brazek (Sesamkekse)
Ouch (Teigfadengebäck) mit Pistazien und Cashewkernen
Ghoraiba (Butterkekse)
Maamoul (Mürbeteiggebäck) mit Pistazien, Walnüssen
oder Datteln Kadayif (Teigfadengebäck)

Wettbewerbsvorteile
Gesamter Backprozess im Haus und traditionell
handgefertigt mit Unterstützung der neuesten
modernen Techniken.
Verarbeitete Nüsse kommen aus Syrien.
Nur 10% Zucker hinzugefügt.
40% weniger Zucker als vergleichbare Produkte.
Keine Verwendung von zusätzlichen Düften,
Farben und Aromen.
Ohne Ei hergestellt.